Online Save the Dates
Sending online save the dates (instead of traditional paper that is mailed) is a growing trend among engaged couples. Digital save the dates work similarly to traditional save the date cards without sacrificing beauty or personality. In fact, online save the dates offer a number of features that traditional save the dates simply can't offer (for a detailed look at the differences, see our comparison of traditional vs. online save the dates).
With the continued growth of electronic communication and the decrease in mailing letters, it's no wonder that the popularity of digital save the dates is on the rise and an ideal choice for couples when saving their wedding date. There are thousands of electronic save the dates to choose from offered by several different companies—each with their own unique features and selection.
For example, Greenvelope offers 400+ digital save the date designs that you can personalize with your own text, photos, and more: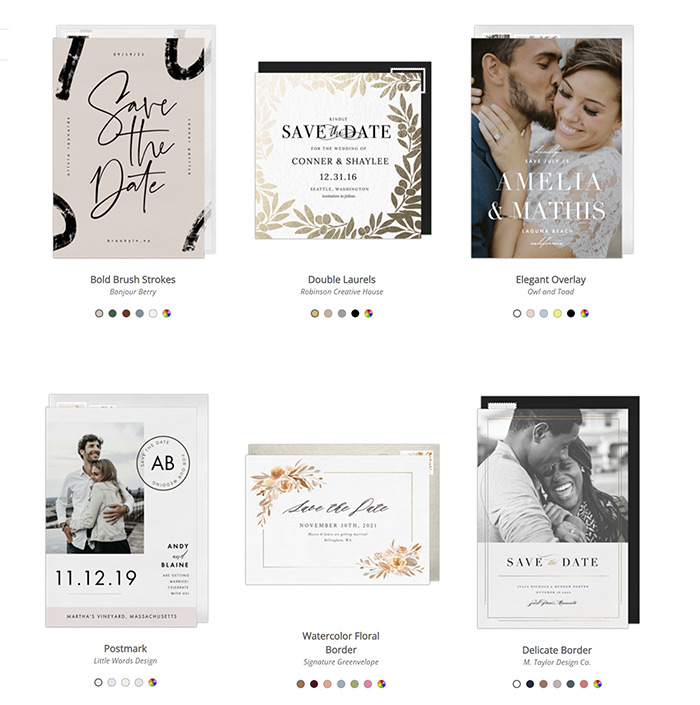 How Digital Save the Dates Work
Instead of mailing save the date cards to family and friends with an envelope and a postage stamp, digital save the dates are delivered electronically—typically via email or SMS text. Your virtual save the dates will have personalized links that can be sent through social media or just about any other messaging service such as WhatsApp, Messenger, and more. Rather than seeing a paper card with your wedding's details, your wedding guests will see a digital version of a "card" on their computer or phone. Here's a sample of what an online save the date might look like to a recipient:
Advantages of Digital Save the Dates
There are many advantages to saving the date for your wedding online that paper simply can't match. This is where digital save the dates begin to shine because the strengths of paper end and the advantages of digital begins. These advantages of digital save the dates are worth noting when you're trying to decide on whether to send paper or electronic save the dates:
Budget-Friendly: Digital Save the Dates will Save You Money
When comparing the various types of save the dates, online is the most affordable format—cheaper than traditional options including cards, magnets, and even postcards. Yes, digital save the dates still cost money, but the savings over paper is substantial (to see how the costs of each format compare, see our guide to sending save the dates on the cheap).
Online save the dates require no postage to send them to friends and family. This will save you $.36 to $0.55 per recipient which can add up quickly to real savings. Costs can vary based upon the number of guests you notify, but you'll still save money when compared to mailing traditional save the dates. You'll also save a trip to the post office which is always a win.
Feature-Rich: E-Save the Dates Offer Features Paper Can't Provide
Saving money doesn't have to mean that your save the dates will look cheap. Virtual save the dates not only look as beautiful as their printed paper alternative, they also offer a host of features that you won't get when sending paper cards or postcards.
Delivery via Email, SMS Text Messages, & More
Digital save the dates are delivered via email, SMS text messages, social media, or other messaging apps. When you import your guest list and send them to your friends and family they will receive a personalized email (or personalized link you can send to guests via other methods such as messaging apps). Most providers will send your messages using your guests' names to convey a personal touch typically found on stationery envelopes.
Delivery confirmation is provided by some companies so you can see who received/viewed the save the dates in real-time. Some services allow you to send you save the dates in batches, so you don't have to commit to sending them out to everyone at the same time. This means you could start with a key list of guests then decide about other guests at a later time or invite more if some early invites are declined.
Though the delivery takes place electronically, the process of guests receiving and viewing your save the date is presented in a way that emulates the traditional process of receiving a card in the mail.
Personalization, Animation, and Music
Since you can't touch virtual save the dates, e-vites display an animation that mimics the opening of an envelope on your guest's screen. Many people often assume (incorrectly) that digital save the dates are impersonal or dull, but that couldn't be further from the truth. Like regular save the dates you can personalize the card with your wedding date, names, and other relevant information. And since the presentation is digital it can also include other personal touches such as music, your guest's names, and more—some services even allow you to include a video.
Helpful Links to Information about Your Wedding
One place where virtual save the dates really shine is that they have links to relevant information about your wedding. Your save the dates can contain links to a variety of related tasks and information such as gift registries (like Amazon's wedding registry), maps of the venue and hotel booking information, and more.
If you have a wedding website you can include a link to it. There is also a built-in RSVP and address collection feature that help you gather responses from your guests about their availability on your big day.
Of course the most crucial part of sending a save the date is the date itself! Guests can add your wedding date via calendar tools such as iCal, Google calendar and more to ensure that they save your date—the key point of this entire process.
Guest List Import & Mailing Address Collection
It's easy to import the email addresses or phone numbers (for sending texts) of your guest list/recipients. Simply provide their names and email addresses or phone numbers—most services allow you to use a spread sheet and some will let you import contacts from your address book or social media account. There's no need to dig up their physical mailing address.
Once you send your save the dates you'll have the ability to collect mailing addresses for when you send your paper invitations at a later date. When guests receive your save the date electronically, they will respond to your custom RSVP but they can also provide their physical address if you so choose to ask them for it. This greatly simplifies getting additional contact information needed to send the final wedding invitation by mail.
RSVP Management
RSVPs are a great feature of sending electronic save the dates. While technically not required when sending save the dates, they can be helpful in determining if any of your initial guests who you are inviting are not able to attend your wedding. Keeping track with those who can't attend is helpful; if some of your planned guests can't attend, it will inform you as to how many other people you can now invite to your wedding in their place. You'll also get an early confirmation from many guests solidifying who you need to send actual wedding invitations to at a later date.
Companies who offer online save the dates have created a host of features for sending RSVPs from deadlines, multiple responses, reminders to RSVP, tracking/exporting responses and much more. Suffice to say if you need your recipients to RSVP regarding not only their attendance to your wedding but to respond to other helpful details, online RSVPs are a great solution.
Free Trials, Samples, & Previews
Almost every online save the date service will let you sample their service before you buy. Most require you to create a free account, but then you'll be able to choose a design, customize it and get a feel for how things work. This is a great way to "try before you buy" which is virtually impossible with paper save the dates. It also gives you a chance to see exactly what your guests will see.
Eco-Friendly: Save the Date, Save the Planet
It goes without saying that virtual save the dates require no paper, and no paper means less trees harvested, less waste in landfills, etc. No physical delivery means less fossil fuels are burned and a significantly lower carbon footprint when compared to delivering envelopes across the country.
In addition to the natural byproducts of sending digital stationery instead of traditional paper, many of these companies have an ethos that focuses on protecting and renewing the environment. Many virtual stationery companies commit to planting trees and taking other steps to offset their carbon footprint and make their products more environmentally conscious. A company such as Greenvelope has the idea of "being green" baked into their name. Online save the dates are the perfect way to save the date and help the planet at the same time.
Where to Buy Online Save the Dates
The following list is a collection of every company we know that offers online save the dates. In the future we plan to provide a detailed review of each website but for now we have provided a rating to help give you an idea of how we rank the vendors when compared to each other.
Rank
Company/Website
# of Designs
Our Rating
1st
Greenvelope

Our favorite—feature rich and priced right

400
10/10
2nd
Joy

100% free, but no photo save the dates

250
 9/10
3rd
Paperless Post

Great service, confusing "coin" payments

850
8/10
4th
Papier

Functional, but style factor is lacking

23
6/10
5th
eVite

Wide format/size; not wedding-specific

45
 5/10
6th
Punchbowl

Limited features and selection

40
 5/10
7th
Greetings Island

Print, download or send; no RSVP

310
 5/10
8th
RSVPify

Limited selection; not wedding-sepcific

25
 2/10
9th
Smilebox

Basic; no personalized emails, RSVPs, etc.

60
 3/10
10th
Canva

Free design download; no email or RSVP

35k
 1/10