Traditional vs. Online Save the Dates: Which is Better?
Getting married means making lots of decisions. One of the earliest decisions you'll make in your wedding timeline concerns sending save the dates to your wedding guests, letting them know what day you'll be getting married so they can clear their schedules well in advance.
There are two main ways you can inform your wedding guests of your big day: traditional save the date cards/postcards or the growing trend of sending online save the dates via email/text messages. There's no right or wrong medium—each has their own strengths and weaknesses and both of them are effective ways to make sure guests mark their calendars with your wedding date.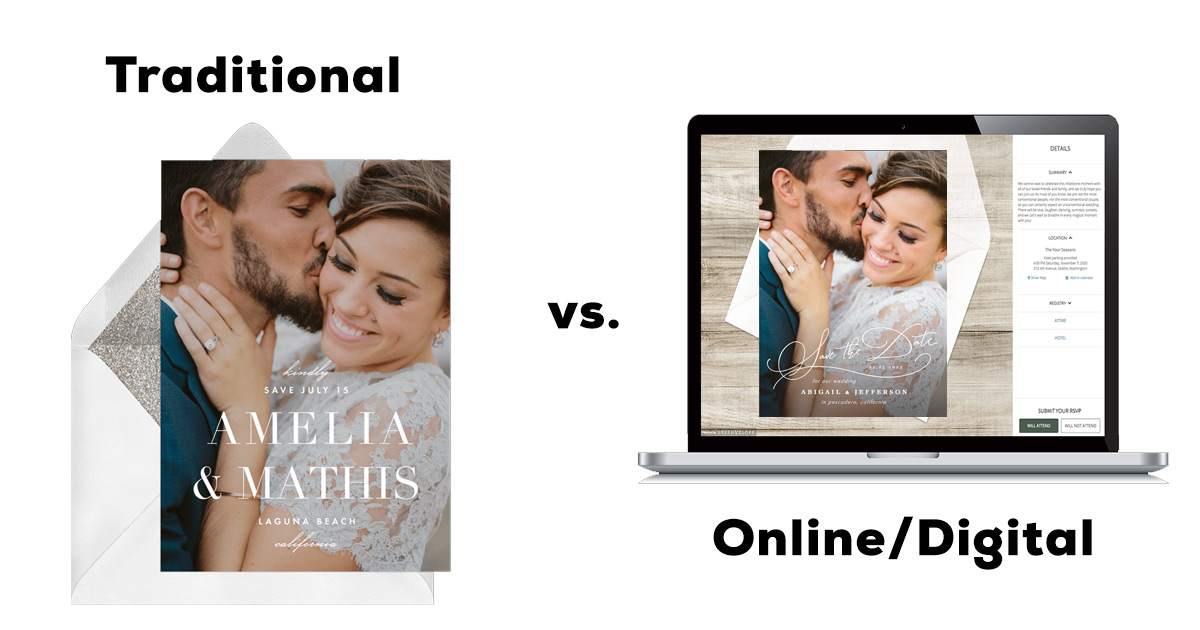 Traditional Save the Dates vs. Online Save the Dates: A Comparison
Paper or Digital?  There are advantages and disadvantages to both methods of sending save the dates. Here are the key strengths and weaknesses of both traditional and online save the dates:
Online Save the Dates (Virtually Sent via Email/Text)
Pros
Cons

Less traditional
Fewer design options
No physical item for guests to receive
We've compared the two formats based on five different factors to help you decide which one is right for you:
Cost
Wedding expenses can add up fast. Thankfully sending save the sates is one of the smaller portions of your wedding budget. While sending save the dates cost less than sending your actual wedding invitations, there is still a cost to sending them that should be considered. Online save the dates cost less than traditional save the date cards(for a detailed guide on save the date prices, see our guide on how to send save the dates cheaply). Much of the savings comes from the fact that delivery via email and text is much cheaper than physically mailing your save the dates with a stamp. There are other factors as to why digital save the dates are cheaper (quantity, etc.) but if you're looking to save money, digital is the way to go.
Better Choice for Cost: Digital
Selection
If you're not satisfied with just any old save the date template, then selection is a big deal. While the number of digital save the date templates have increased, traditional paper save the date designs reign supreme in regards to the number of styles, templates, and shapes from which you can make your selection. There are thousands of different designs from photo save the dates to themed designs such as vintage, rustic, autumn weddings, and more. If you already have your wedding colors picked out, a color-specific choice such as turquoise save the dates is a great way to set the tone early in your wedding correspondence. When it comes to selection, traditional paper save the dates remain the clear winner over digital.
Better Choice for Selection: Paper
Features
Historically save the dates haven't had a lot of "features" per se. Typically save the date cards announce the names of those getting married, the wedding date itself, and perhaps the location of the wedding. Additional details are often withheld until a later date when they have been finalized and are instead listed on the invitation or a wedding website.
There is one feature that paper offers which digital can't match: a physical reminder. Just as tying a string around you finger serves as a physical reminder to do something, a paper save the date can give guests something tangible to hold as a reminder of your wedding day.
With the invention of online save the dates, companies have introduced a number of helpful features that are available when sending virtual save the dates—features that paper simply can't offer. Digital save the dates often include RSVPs, guest address collection tools (for sending your invitations by mail), links to gift registries, maps, hotel information, delivery confirmation, and more. Most of these features simply aren't possible with paper-based save the date cards or postcards. When it comes to features, digital save the dates clearly have the upper hand.
Better Choice for Features: Digital
Tradition
Do you like to keep with tradition or are you one who likes to forge your own path? Using paper stationery has historically been the usual way to save the date. Save the dates aren't as formal as wedding invitations, but cards are more formal than sending emails or text messages. Digital save the dates are growing in popularity with each day and as our society becomes increasingly digitalized in all aspects of our lives—especially with regards to communication.
Since weddings are often steeped in tradition, most couples (and their guests) are still more familiar with receiving save the dates by mail instead of by email. Even though digital save the dates have been around for more than a decade, they aren't as well known as the practice of sending and receiving paper save the dates. If you're one who likes to embrace change or live on the cutting edge then you might want to consider online save the dates. But if you want to stick with the tried-and-true method, mailing paper save the date cards is the clear choice.
Better Choice for Tradition: Paper
Presentation & Style
Some couples just want a simple and practical way to let guests know about their wedding date. Others have specific desires regarding the look and feel of their save the dates. For those who need the perfect pick there are thousands of designs from which to choose when you create your save the dates.
If you send paper cards, you can choose most of the details including the design, font, message, envelope, and even the postage stamps. This is mostly true for digital save the dates as well, plus you can often add music or a video. Even though online save the dates are "opened" on a screen, most providers offer an animation that mimics the experience of opening a physical envelope so it feels like a more robust experience than just getting an email or text.
Both paper stationery and digital invitations offer a presentation to your guests that is beautiful and stylish. It's truly a personal preference when it comes to which is the better choice.
Better Choice for Presentation and Style: Tie
And the Winner Is...
In our opinion, traditional save the dates (printed on paper) are the better choice when it comes to selection and tradition. But online/digital save the dates are the better choice if you're looking to save money and to get the most features. In terms of style and presentation, it's a toss-up between the two choices.
There isn't one clear winner—it ultimately depends on what you value and want for your wedding. As long as you know the strengths and weaknesses of both choices, you can find the perfect way to save the date!